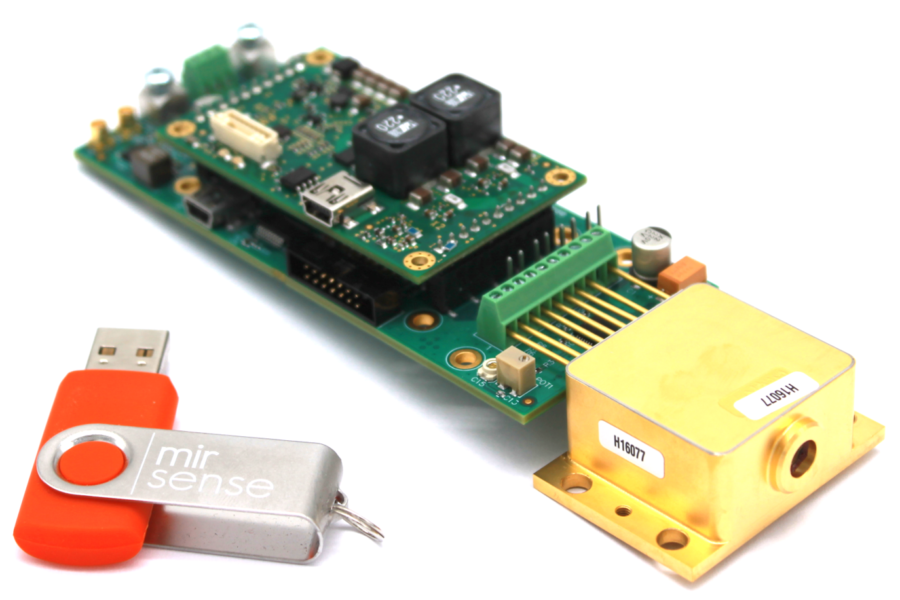 The mirSense turnkey system is made of a small electric driver with up to two independent QCL laser heads.
powerMir: Bright solution for demanding applications
The powerMir is a high power Quantum Cascade Laser achieving watt-level output power and high wall-plug efficiency. At room temperature, our Fabry-Perot QCLs deliver up to 2W of average optical power in quasi continuous wave (QCW), and the typical wavelengths are those of the atmospheric transmission in the 4, 4.6, 4.8 and 9 microns regions.
" The roadmap of the mirSense company is to remain the leader by reaching high powers in the wavelengths of 4µm, 4,6µm, 9µm." says Dr. Gregory Maisons, phd, head of laser R&D at mirSense.
PowerMir devices are developed and manufactured in France by mirSense, are not subject to ITAR constraints and enjoys the European free circulation of goods. When export control is required, mirSense can supply most customers with the support of the French government throughout the world.
Mrs Florence Parly, minister for the  armed forces,
exhibits a mirSense QCL for DIRCM applications
©Véronique Besnard / Ministère des Armées
The mode is typically TEM00 with Gaussian spatial distribution and superb high beam quality for easy handling. The highest efficiency is obtained from buried-ridge devices with improved thermal characteristics. The buried heterostructure is formed by regrowth of semi insulating iron doped InP on the side wall after etching of the laser ridge. Excellent performances, including lower threshold current densities and high characteristic temperature, are obtained due to lower lateral waveguide losses and improved lateral heat dissipation.
The beam of our high-power lasers is a Gaussian beam
powerMir is available in robust hermitically sealed HHL packages with collimating lens for low divergence and Peltier regulation (TEC inside the HHL package). mirSense can also supply other packages such as butterfly or specially designed ruggedized packaged customized for the client's needs. Lasers can also be supplied as bare chips on submount or in opened HHL packages for Ghz probe-based modulation.
Clients can also enjoy the benefits of the mirSense turnkey system to drive the QCL lasers. A small, lightweight and transportable temperature and current driver allows users to define and control many parameters such as power, waveforms, modulation frequency, duty cycle or pulse width. Each driver can control up to two lasers. Many options are available such as control of the power from 0 to 100% and creation of any kind of embedded complex modulations with the mirSense easy to use software that works on a PC. Alternatively, external coding is possible with a TTL input. When it comes to pulse width, pulsed capacities reach down to few tenths of nanoseconds and modulation frequency may vary between few Hz to above 1 MHz. For clients wanting to modulate to Ghz levels, mirSense can supply a special opened-HHL laser for probe-based modulation. Depending on parameters, water or air cooling is supplied.
As an alternative to the packaged driver, an OEM PCB may be supplied for OEM clients.
Standard HHL package
(package customization is possible)
The High Power Quantum Cascade lasers from mirSense line target the Defence and Security applications, e.g : Directional InfraRed Counter Measure (DIRCM),   where high power, robustness and high beam quality are mandatory.
Custom multi-band solutions are available.
Example of an external TTL  frequency modulation of the average optical power.
Typical P(I) curve of a QCL laser from mirSense delivering 2W at 4.8µm
Typical spectrum of a Fabry-Perot QCL from mirSense at 4.8µm
Typical QCL main specifications
Please review with mirSense your QCL specs before issuing a request for quotation. Please review and confirm with your mirSense representative the complete QCL specifications that you need.
Wavelength

 ∼ 4 µm, ∼ 4.6 µm, ∼ 4.8 µm, ∼ 9 µm

QCL type

Fabry-Perot

Mode

Quasi Continuous Wave (QCW)
(CW possible)

Average Output Power

Up to 1W at ∼4µm
up to 2W at ∼4.6µm and ∼4.8µm
up to 1W at ∼9µm

Beam quality

TM00 Gaussian beam, M²<1.5

Divergence

few mRad (specific divergences on request)

Package

HHL with built-in TEC

Operating Temperature

+20°C (temperature of the HHL base plate)

Country of manufacture

France
Example of an amplitude modulation of the average optical power.
The software developed by mirSense has powerful features that allow users to create all kind of waveform modulation patterns in a very friendly easy way.
Typical QCL turnkey system main specifications
The mirSense turnkey system is small, portable and allows users to control many parameters. Please review and confirm with mirSense your driver specs before issuing a request for quotation. Please check with your mirSense representative the full turnkey system specifications that you need.
Software

A friendly PC software with graphical user interface

Electric driver dimensions & weight

20cm (length) * 15cm (width) * 6cm (height)
925 grams

Air cooled laser head

The laser head contains the HHL together with some proximity electronics, air fan and a manual shutter.

Water cooled laser head (with chiller on request)

The laser head contains the HHL together with some proximity electronics, water cooling mechanism and a manual shutter.

Laser safety

Based on laser numerical ID, protect laser from miss-usage (not active if open driver mode is active)

 Possible options

External TTL

:  allows users to modulate the system externally

Open driver mode

: turn you system into a lab QCL driver (Availability depends on laser):

Frequencies from Hz to above 1 Mhz
Pulse width down to a few tenths of nanoseconds

Duty cycles from 0 to 100% (depend on laser characteristics)

Power modulation

: calibrated 0 to 100% software controllable power.

Country of manufacture

France